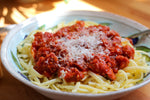 My favourite food in the world is pasta, yet ironically I'm allergic to wheat. There's just something so comforting but at the same time romantic about a ol' big bowl of pasta, that despite my allergy I'm unable to give it up. Thankfully there's tons of great gluten free pasta alternatives out there now compared to 7 years ago when I was first diagnosed with the allergy. Back then I didn't really cook and used to buy jarred pasta sauce, but after making pasta sauce from scratch there really is no going back!
My dad taught me how to make this staple tomato sauce years ago when I first really started cooking. The beauty of this sauce is that it can be altered to your own unique taste to create so many different dishes of pasta with the switch of a few simple ingredients. My all time favourite variation to make with it is our Spicy Sausage Linguine. This dish is hearty and filling! You can control the level of heat by what type/brand of spicy sausage you use, as well as how much cayenne pepper you add. Which means it can be mild, or extra spicy for all you heat lovers out there like myself! This dish is best served with a warm loaf of baguette smothered in butter for your non gluten-intolerant family members. Be sure they use the bread to sop up any left over sauce in their bowl afterwards, it's that good!
We use canned whole San Marzona tomatoes by Uncio for this recipe as they're readily available all year round and a meaty variety, but you could just as easily use tomatoes straight from your own garden to make this sauce extra fresh! If you do be sure to use a meaty variety of tomato for a thick sauce, and to take the skin off. Now here's what you'll need to make our Spicy Sausage Linguine..