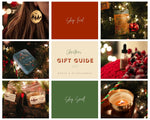 Local Holiday Gift Guide 2021
Black Friday and Cyber Monday are finally here, the largest shopping events of the year. Though all of the sales are enticing it's important we remember to shop small this holiday season. This has been two of the hardest years to date for small businesses, and this Christmas is the biggest opportunity we have to show them an outpouring of love and lift our local makers and artisans up! I've already been doing my holiday shopping this season at my favourite makers markets and farm stores, so I've compiled a very short list (because there are so many amazing makers in our community I can't include them all) of some of my favourite locally made/sold finds this past year within Durham Region. These items are all below the $100 mark making an affordable gift, but still thoughtful and crafted with care.
I would also like to state this is not a paid endorsement or ad, I just truly love these local companies and their wonderful products!

If you're looking for a one-stop shop that's filled with exclusively locally made goods to do your holiday shopping this year, check out these fantastic maker markets and farm markets in the area. Some of these stores are where I picked up the items on my Christmas gift guide and others are favourites to visit:
The Bridge Social, Uxbridge, ON (Foggy River Farms tea purchased here)
The Makers Hub, Whitby ON
Markets by Dream Day, Brooklin and Bowmanville ON (Spark & Thistle earrings purchased here)
Gather, Bowmanville ON (Basecamp Card Co. playing cards purchased here)
Urban Market Picks, Oshawa ON
Aide Body Care, Oshawa ON
Willow Tree Farm, Port Perry ON (Bridlewood Soaps beard oil & Woodsy candle purchased here)
Pingle's Farm Market, Hampton ON
Buddha Belly Bakery, Newcastle ON (not a market store but has a fantastic range of in house baked gluten free treats!)


Now lets get into Roots and Wildflowers Holiday Gift Guide 2021...

Gifts for a herbal hippy: Tea by Foggy River Farm, $10 for 15g or $20 for 60g

I love love love herbal teas. As a nutritionist dried herbs and teas are one of the most easily accessible tools that's always in my kitchen. They can be drank morning, day or evening and are such an enjoyable ritual to add to your day. Foggy River Farms is my all-time favourite local tea company. Not only do they create these beautiful herbal tea and spice blends, but they grow everything in them locally on their farm located in Uxbridge ON! I love what this company stands for and how ecological farming practices are apart of their core values. What I love most about their teas specifically is there are absolutely no artificial nasties or "natural flavours" included. These beautiful teas are simply the herbs stated on the ingredient list, grown with care and harvested with optimal flavour. To top it off their new packaging is super cute and environmentally friendly. Their 15G bags are the perfect samplers to test which flavours you love best, and make a great stocking stuffer or secret Santa gift! My favourite blends that I've had the opportunity to try so far are Ultimint and Sleep. I just purchased Mint Punch this week and haven't had the chance to try it yet but I'm sure I'll love it! Foggy River Farms has a wide range of tea blends, singular herb teas, cooking spice blends, and tinctures for you try to. Be sure to check out their website here or see them in person this weekend at the last Uxbridge Holiday Market.


 
Gifts for the cozy candle lover: Brilliance Bowl in Apple Rind & Cinnamon by Woodsy, $28
I'm going to be completely honest and say I've never really been big on candles up until I found this brand. I seem to have a sensitivity to really strong scents and don't appreciate when a candle "punches me in the face" with its overbearing odour. These stunning soy candles by Woodsy, located in Caesarea ON, are different. I love them for three reasons. One, their scent is light and doesn't linger. Not once have I lit one of my Woodsy candles and gotten a headache. Two, they come in the most stylish containers that the company will reuse! They have a fantastic eco-friendly initiative; if you bring back 7 previously loved vessels to their home-store location, you get a 4 pack of assorted tiny lights for free (of $24 value). Lastly, they are soy-based and have a wood wick. I love the sound of a crackling wick, and I find these candles burn much longer because of it. I love that these are soy candles, as they are a healthier alternative to the synthetic paraffin wax candles on the market today. My favourite Woodsy candle scents we've had the chance to try so far are Apple Rind + Cinnamon and Pumpkin + Persimmon in their Brilliance Bowls. These vessels just sparkle and light up a room! I can't wait to try out the winter holiday scents this season.



Gift idea for your bearded beau: Hemp Beard Oil by Bridlewood Soaps, $15
Beard oil is a must-have gift for my boyfriend every year. Tyler has sported quite the beard for the past 5 years of our relationship, and it's become a bit of a tradition for everyone to get him new beard oil to try every Christmas. This year's beard oil comes from Bridlewood Soaps, and yes he has already dove into it because it's a real winner. Their Hemp Beard oil is infused with cedarwood, bergamot and lavender. It smells absolutely amazing and is definitely by far my favourite scent of beard oil he's tried so far. Kissing him is like stepping into a fresh forest. Personally, he's found this beard oil to be lightweight and non-greasy, as well as fantastic for his sensitive skin. So far it's been his favourite oil to date - clearly as this is his 3rd bottle of the stuff this year! As Tyler would say, "10/10 would recommend to a friend". 
Gifts for your gluten free bestie: Gluten free treats (or gift card) from Buddha Belly Bakery
 As a gluten-free gal and self-proclaimed foodie, I can attest there's nothing better than a sweet surprise in the form of a really good gluten-free treat. Buddha Belly Bakery in Newcastle ON, has by far become my favourite spot to fulfill any and all my sweet gluten-free cravings. In fact, it's become a regular girl's day outing with my friends to go get donuts. I usually stock up on their amazing ready-to-bake cookies for my freezer when I'm there, that way any time guests stop by over the holidays I always have an easy dessert on hand that I can also partake in! Of course you could always grab a treat box for your friends or family to share, full of their delicious donuts, muffins, cookies and bars that are 100% gluten-free. They also carry baked goods that are dairy-free, nut-free and free of refined sugars for our loved ones with other allergies/dietary needs. If you think they'd enjoy the trip there themselves to revel in gluten-free bliss, grab them a gift card instead! 



Gifts to make them sparkle: Earrings from Spark & Thistle, retails around $30-$80
I firmly believe there is no such thing as owning too many pairs of earrings. I love jewelry and it's something I have always used to express myself growing up that helped shape my own unique style. One of my favourite ways to do this is with statement earrings or necklaces. I tend to lean towards a more non-traditional style and love a piece with natural elements or texture. These brass hammered earrings that paint a beautiful mountain landscape are one of my new favourite pieces. Made by a local artisan Spark & Thistle from Bowmanville ON, these hand-made earrings are sure to make you stand out. What I love most about these earrings is although they are large, they don't feel too heavy in my ears. You may not be able to find this exact style of earrings in stock now (as I purchased them in the summer), but Spark & Thistle has quite the large collection that can be found in markers markets across the region like The Bridge Social, Markets by Dream Day and more! This unique nature-inspired jewelry is sure to become a sentimental piece that your recipient will keep for years.



Gift idea for playful pals: Basecamp Card Co. Set of playing cards, $18
Lastly, I had to include a fun gift for friends. Although it was not created locally, this card deck was something we purchased locally earlier this year at Gather in Bowmanville ON. We had got it for our upcoming camping and cottage trips this past summer, and though it may just look like a fancy deck of cards it actually doubles as a game to get to know each other better. Basecamp Card Co was created by a young Kelowna teen named Maya, who used a simple deck of cards as an intentional way to get to know the amazing people she met on her travels better. As she says in her companies creation story "everyone has wild stories just waiting for the right prompt." and this deck of cards is exactly that! A buffer to get to know people better but in a causal way. This card deck would make a great gift to accompany adventurous friends on their travels, or for any friends or family that love to get together and know each other better! 

Thank you for taking the time to read my 2021 holiday gift guide! I hope to make this a yearly tradition and share many more amazing makers and artists in my community. If you can think of any small businesses you'd like to support and share, please comment them below with a link to their website for other readers to discover! Cheers to shopping local this Christmas season!