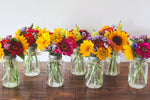 5 Easy to Direct Sew Cut Flowers
More than ever families are turning to their gardens to grow fruits, vegetables and flowers to sustain themselves through the coming summer months. In a world full of uncertainty, growing a little beauty and nutrition at home just might be the trick to keep you not only healthy and nourished in body, but also grounded and sane in mind.
If you're new to gardening it may all seem daunting, but I promise it's not - the good news is you don't have to be an expert to start growing flowers. Over the past three years I've gotten messages from friends and followers alike stating "I don't have a green thumb to save my life, but I want to grow flowers and start a garden!" I love these messages because introducing people to the world of gardening is one my favourite things. My garden is my happy place; there is no greater feeling that getting your hands in the dirt and watching what you sew grow to life. You don't have to be a seasoned gardener to start your cutting garden; you just need the passion to grow! Which I'll admit isn't hard, because a flowers undoubtable beauty makes it oh so worth it.
Here are some of my favourite tried and true flower varieties that are easy to direct seed, and create make a great cut flower! I've grown these varieties summer after summer again in my own cut garden at my grandmothers. Some of you may have even recognize them from your flower subscriptions with us!
For those that are new to gardening, direct seed or direct sew means you can put it directly into the ground and they'll begin to grow. While some flowers need more tender care in a controlled environment with ample time to germinate, with these flowers it isn't necessary to start seeds indoors during the winter to get the beautiful blooms! Simply space, dig a small hole, pop the seed in, cover with soil, and you're ready to go. After a few days of watering and care you'll see the beginning of your seedlings appear springing to life!
Want to create this cheerful summer flower arrangement at home yourself this summer? You easily can with my favourite cut flowers listed below!
1. zinnias
Personally, I think Zinnias are highly underrated by the home gardener. Florists alike love them, because these beauties come in so many shapes, sizes, and stunning colours. Queen red lime zinnias tend to steal the show in the flower world, but my personal favourite for a fun and colourful array of flowers in the garden is the State Fair mix. These flowers grow tall and with the constant care of dead heading will continue to produce beautiful blooms for you to enjoy all summer long! Depending on where you live watch out for pests like Japanese beetles, if you see any taking a snooze or snack on your petals, be sure to pick off and put into a container of soapy water. Do not crush beetles as they will let off a pheromone to attract more to your garden.
2. cosmos
Just like Zinnias, Cosmos come in a variety of styles ranging in beautiful hues of deep cranberry, blushing pink, lemonade, and soft white. Cosmos can be fluffy and full, have intricate vessel like petals, or simply be soft and smooth. Seashells Mix or Double Click Mix are two very unique varieties of cosmos that I adore, though your standard Sensation mix is always beautiful. Cosmos reminds me of cottages and seaside towns, but would make a great addition to any garden! Be sure to space cosmos accordingly as they are prone to powdery mildew if they don't get enough air circulation and sunlight. Dead head regularly to promote new blooms.


3. bachelor buttons
These teeny tiny blooms are so fun to me. Also called cornflower, bachelor buttons is a small bloom that comes in an array of mixes from blues, purples, pinks, reds and whites. These small cut flowers make a great addition to any arrangement, but they are also fantastic to dry and use as a decoration or some even add this edible flower to salads (though I've never tried it)! The reason I love bachelor buttons is because blue is a very rare occurrence in the plant world, there is a only a handful of flowers that naturally occur this colour - so these purple-blue hues are quite hard to come by! My favourite bachelor button is Classic Fantastic Bachelor's Buttons.


4. statice (sea lavender)
A real underrated beauty, I prefer calling Statice sea lavender because it's truly what I would imagine lavender by the sea looking like. This plant is super hardy, and will produce so many stalks of what I can only explain looks like alien sea coral in garden form. I love statice for it's vase life and ability to go beyond it. I have bundles upon bundles of dried statice in my home, as well as jars full of their blooms to make a beautiful flower confetti. My favourite mix is Seeker Mix, although this year I want to try my hand at a mix with pinky-apricot hues.



5. sunflowers
Who doesn't love a sunflower? This garden staple is easy to grow and will bring some sunshiny cheer to your garden even on the rainiest of days. Personally I'm a big fan of sunflowers with yellow centres, call me crazy but it's just my thing. My favourite easy to grow variety these past years is Vincent Fresh. Their bright and cheerful faces stretch high towards the sky, many varieties growing taller than me. I recommend growing sunflowers close to an exterior wall of your home, or fence so they have shelter and support against strong summer storms that can knock them over. Keep a close eye on birds who may be sizing up your sunflower seeds, I've had my fair share ruin sunflowers over the years for a tasty snack.

Lastly, here's a list of some Canadian Seed Suppliers you should check out to order your seeds this season:
Do you have a favourite Canadian seed company not mentioned here that you love to buy from? Do you sell seeds yourself? Comment bellow so other gardeners can check them out and we can add them to our list! Have any questions about these cut flowers or direct sewing? Feel free to ask in the comments below and I'll do my best to answer them. Happy growing flower friends!