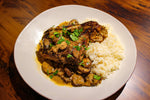 Creamy Garlic Mushroom Pork Chops
Pork chops smothered in a creamy mushroom sauce, a weeknight classic! You may have grown up making pork chops with canned cream of mushroom soup, but this recipe is the sophisticated adult version featuring a decadent homemade mushroom cream sauce. It contains a hearty helping of fresh cremini mushrooms, lots of garlic, and a hint of smokey heat. This dish is extremely filling and will impress any family or guests.

The dish itself is made in one large skillet in two simple steps. First searing your pork chops, then creating your mushroom sauce. The overall cooking process is easy, it just takes time (as all good things do). At the end of the recipe, you will add your pork chops back into the skillet to infuse with flavour and finish cooking. The bubbling aromas of smoked paprika, garlic, and mushrooms will make your house smell fantastic, and be sure to beckon everyone to the dinner table. The earthy element of garlic and smokey heat of paprika and cayenne is what makes this dish next level. Making what could be a boring mushroom cream sauce interesting. This is personally one of my favourite meals and for sure my partner who is mushroom obsessed.

We love to serve this dish over white rice or pasta drizzling the extra mushroom sauce over top. For a healthier alternative you could swap the refined goods for fresh vegetables like cauliflower rice or zucchini noodles!
As always, please use this recipe as a guide and adjust ingredients as necessary to your personal taste! I encourage you to have fun in the kitchen and make things your own. If you decide to make this recipe, please come back to rate it and share with us on social media! I love seeing your creations. 
- Kirsten